Boston, Feb. 17, 2021 – Onepak announced today that it is the first in its industry to launch a carbon offset management service to document and offset the carbon footprint of every shipment. This means it is also the first to provide carbon-neutral asset recovery logistics.
Pioneer in carbon neutral asset recovery adds service for clients to measure, manage and offset their Scope 3 emissions.
Long known as a leader in creative reverse logistics technologies, Onepak has emerged as a leading platform services company in the circular economy space. Onepak has now added its Carbon Offset Management Services to its loop logistics ecosystem.
"Now that we can manage, track and offset the carbon footprint of our multi-layered logistics services, we decided to add a technology layer so that our clients will benefit as well," said Steve Andon, Onepak CEO.
Going forward, an element of Carbon Offset Management Services will be built into every service Onepak provides. This is particularly meaningful for IT asset recovery programs, where Onepak provides not only onsite packing, pickup and transportation, but also the data that electronics OEMS require to comply with producer responsibility regulations. "It only makes sense that a takeback program for a leasing company or OEM should be carbon neutral," said Andon.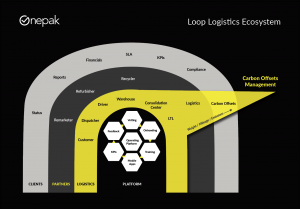 There is a reason this has not been done before.
"The reverse part of loop logistics is usually fragmented and difficult to manage, even without the challenge of measuring its emissions, but fragmented and difficult is our specialty," added Andon. "If we hadn't spent the last fifteen years investing in a technology ecosystem that digitally connects all the stakeholders in these complex transactions, we would never have been able to accurately calculate and report on the environmental impact, but here we are, and now we can."
Many companies find that 80% or more of their greenhouse gas emissions come from their value chain. The Corporate Value Chain (Scope 3) Standard includes activities that a company does not control directly (such as outsourced asset recovery logistics).
"We want to do our part to help our clients move toward carbon neutrality and to improve their ESG ratings," said Andon. "Onepak minimizes environmental impact through improved routing and optimized logistics during the asset recovery process—and now we can offset that impact."
CO2 contributes most to GHG emissions (>95%), so measuring and offsetting CO2 emissions is Onepak's focus for this program. To be considered truly carbon neutral, Onepak is committed to removing as much carbon as is emitted through the services it provides.
Onepak uses an independent third party to coordinate the creation of carbon removal projects and the issuance, sale and retirement of their associated offset credits for every tonne of CO2 removed from the atmosphere and stored in the ground. This alignment enables Onepak to focus on carbon removal rather than emissions avoidance or reduction. Independent 3rd party verifiers authenticate each carbon removal certificate, which is tracked on blockchain to ensure complete transparency and accountability.
Dedicated to advancing the 10 principles of the UN Global Compact and the 17 UN Sustainable Development Goals, Onepak's Carbon Offset Management Services program is committed to helping clients minimize, track and offset their environmental impact.
About Onepak
Founded in 2005, Onepak technologies digitize logistics for the global circular economy. Onepak has managed more than one million reverse and return shipments representing more than one billion pounds of reusable and recyclable materials diverted from landfills into the circular economy. The Onepak platform connects and coordinates fragmented services to manage the movement of goods that will be reused, resold or recycled through their circular supply chain.
Media Contact:
Shawn Stockman
Email: shawn.stockman@onepak.com
Tel: 207.236.4222
Web: www.onepak.com