Operational Excellence
A user experience second to none
Visibility, professionalism, measurable performance drive customer satisfaction
The Onepak customer experience is unlike any other in the circular economy. Onepak's high-touch service approach and rigorous set of training and performance standards sets the company apart in a notoriously "service-light" industry. As important, the Onepak experience drives measurable value for its customers and impacts a host of financial, ESG and process metrics that were previously unmeasured intangibles.
Technology with a human touch
Onepak's team of proactive customer service pros are singularly dedicated to making each individual transaction a success. They serve as the service conduit for multiple touchpoints between a customer site, a leasing company or OEM, Onepak's field of trained logistics partners, and a variety of disposition providers.
The Onepak customer experience begins with a proactive site survey that gathers detailed information about the nature of each location and the unique needs of every customer before any service is scheduled. This ensures that every item is tagged, packed, shipped and delivered more quickly and efficiently, resulting in consistent data and information – easily accessed – for every transaction. As a result, customers enjoy shortened cycle times while maintaining complete visibility.
Each of our trained drivers use the Onepak driver app, which keeps track of your assets and gives you the ability to review your collected assets before the driver leaves. Once the delivery has been made, your data is uploaded into our platform and fully accessible by you to review, confirm, and report.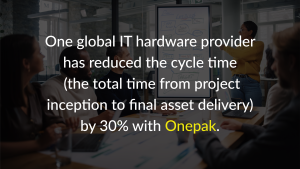 Read more about industry specific impacts in our case studies.
A proven process
Onsite asset inventory, tagging, scanning, packing and removal of assets from single items to multiple items by the pallet or truckload – and everything in between.
Pick up and deliver from any U.S. zip code with consistent professional standard operating procedures and data visibility.
Multiple-touch contact and guidance from Onepak's US-based services team, including:

Ensuring only trained drivers are dispatched
Pre-pickup calls with drivers when they are 30 minutes out to familiarize them with the pickup
Pre-pickup calls to the customer to alert them that the driver is enroute and to confirm pickup details
Phone call to customer once driver is on-site to ensure no steps were missed and to answer any questions
If necessary, troubleshooting phone conversations with driver to ensure customer satisfaction.
Post-pickup customer survey to gather key performance indicators on the onsite crew, customer service and online experience.

Immediate review of collected assets by customer before driver leaves
Immediate upload of transaction records to customer upon delivery completion
One dashboard to monitor all pickups from every location with the same level of detail and data consistency – regardless of asset type, size, packaging, or logistics carrier.
Ready to experience the Onepak difference? Get in touch.