To accelerate the transition to a more sustainable, circular global economy through innovative, carbon-neutral logistics technologies.
To be the leading carbon-neutral reverse logistics platform to serve businesses and consumers in the circular economy.
To lead the transition to a sustainable, circular economy by developing technologies that provide carbon-neutral reverse logistics solutions through an unparalleled partner network.
Through honest business practices and fair treatment of all our stakeholders, we are committed to creating a culture of integrity that is ingrained in every facet of our business. Our compassionate treatment of customers and employees has resulted in fierce loyalty and long-standing relationships. We are not afraid to let our personalities shine through in our daily communications and interactions. We believe this authenticity lends credibility to everything we do and accounts for our resilient drive to innovate. Our core values have shaped our approach to choosing clients, hiring a diverse workforce, and engaging with partners who share our commitment to these values.
---
Serving Our Stakeholders
Customers benefit from outstanding service and care.
Employees are highly valued and cared for as human beings.
Suppliers are respected and treated fairly.
Investors gain value from our focused pursuit of excellence.
Sustainability Pillars
Every item we pickup, ship or track in Onepak's system is an asset that will be reused, resold or recycled. Every client we serve relies on Onepak to drive their sustainability or circular economy programs.
While our services empower our clients to improve the circularity of their own businesses, Onepak is committed to lead by example by becoming a carbon-neutral company. Although there are many factors that are out of our control as we provide reverse logistics services, such as how quickly our logistics partners convert from fossil fuel to electric vehicles, we do control our own technology energy consumption and efficiencies of providing asset recovery services.
Going forward, Onepak will move each line of business toward sustainability and build carbon offsets into each business model.
We will achieve our mission by aligning our sustainability pillars with UN Sustainable Development Goals (SDGs) that provide clarity and focus for our efforts. In partnership with our key stakeholders, we believe we can create an impact that is meaningful and long-lasting.
09 Industry, Innovation and Infrastructure
Reverse Supply Chain Optimization
Reusable Transport Packaging Asset Management
13 Climate Action
12 Responsible Consumption And Production
Carbon-Neutral E-Commerce Returns
Environment
Onepak accelerates the transition to the circular economy by developing and implementing innovative technology solutions in the reverse logistics industry.
Supply Chain
Reverse Supply Chain Optimization
We routinely consult with clients to optimize their placement of asset collection facilities in order to minimize line haul miles and, therefore, their carbon footprint. By timing asset recovery pickups so that they can be consolidated for LTL shipment, we reduce the number of trips.
Through geo-routing, we enable our equipment lease return clients to automatically route returns for the least environmental impact. Onepak provides an innovative cloud-based platform for large electronics manufacturers to optimize the placement of their environmental partners to minimize the carbon footprint of their electronics takeback programs.
Circular Supply Chains
Onepak's services enable our clients to build circular supply chains in order to reduce the number of virgin materials used in manufacturing electronics, which are among the most carbon intensive products made today. Similarly, our loop logistics services that support the use of reusable transport packaging continue to reduce the impact of single-use packaging such as wooden pallets and crates.
Reusable Transport Packaging Asset Management
In 2017 Onepak brought IOT tracking devices to reusable packaging clients to enable them to make more efficient use of their assets. By using our tools to better track asset inventories and to better analyze dwell, transit and cycle times, companies can maximize the number of cycles each bin, crate or reel logs in its lifetime. This means fewer transport packaging units need to be produced, minimizing the use of virgin materials to operate the supply chain.
Industry Education
To encourage the adoption of reusable transport packaging in supply chains, Onepak is an active member of the Reusable Packaging Association, with a senior employee on its board of directors. As the Chair of the Operations and Logistics Committee, he co-authored a white paper, A Smarter, Technology-Driven Supply Chain with Reusable Packaging Systems, which helped advance the industry's understanding of technology options on the market.
Carbon Neutral Strategies
Carbon-Neutral Services
Onepak is committed to providing carbon-neutral services across all lines of business.
We understand that every pickup and every shipment generates carbon emissions. While many companies talk about "carbon offsets", not all offsets are created equal. "Carbon Offset" is an umbrella term. It includes emission reductions, avoidances, and removals.
Reductions can help slow the pace of climate change.
Avoidance of emissions stops the acceleration of climate change.
Neither actually REVERSES climate change.
The ONLY way to negate or reverse emissions is to REMOVE and store carbon.
Only 5% of voluntary offsets are carbon removal, which means we are already in rarified territory.
So, to be considered truly "carbon neutral", Onepak is committed to removing as much carbon as is emitted through the services we provide. To that end, we are creating a plan with a phased approach and achievable goals. Since we can't control our logistics partners, we are taking responsibility for these emissions until our partners can successfully transition to low-carbon or carbon-neutral services.
Onepak has chosen to partner with authenticated 3rd party verifiers of carbon removal that track on blockchain to ensure complete transparency & accountability in our certification.
Impact Monitoring
In 2020, Onepak began a comprehensive analysis of our carbon footprint across all lines of business and for our own operations and technologies. As this process reveals opportunities for the company to reduce and offset its environmental impact, we will be creating policies and processes to hold ourselves and our partners more accountable. As a first step, we have committed to purchasing carbon offsets for each line of business. To do that effectively, we are putting in place the reporting infrastructure to support the measurement and management of our offset strategies.
Asset Recovery
Onepak provides a cloud-based process for equipment leasing companies and electronics OEMs to manage asset recovery shipments of office, IT and medical equipment. We dispatch pickups to local first-mile partners, then ship equipment by a combination of less-than-truckload (LTL) and truckload (TL) carriers back to facilities that resell equipment on the secondary or parts markets. Further, Onepak provides its clients with the option of sending out shipping kits for individual asset recovery from remote employees, or simply printing a return shipping label for workers to use their own packaging to ship used assets at end of lease, end of life or for repair or trade-in. The offset strategy for this line of business is complex to calculate and even more difficult to reduce, but we expect to have metrics defined and a measurable offset strategy in place in 2021.
E-Commerce Returns
Onepak provides consumers online options for scheduling UPS and Fedex pickups and to print shipping labels. By offsetting the carbon footprint of all pickups and shipments, Onepak is providing a carbon-neutral option for consumers who may be returning e-commerce purchases or shipping packages for any reason. This offset program is currently in place.
E-Waste
Onepak operates the largest consumer recycling program in the U.S. for Dell's Reconnect program, which picks up truckloads of used electronics dropped off by consumers at participating Goodwill locations. We expect to have metrics defined and a measurable offset strategy in place in 2021.
Corporate Operations & Technology
The Covid-19 crisis upended our strategy for measuring and offsetting operations because at mid-year our entire staff began working remotely. In 2021 we expect to have measured and purchased offsets for 2020 corporate operations and technology, in addition to offsetting the carbon footprint for 2021.
Offset Goals
Onepak has set goals for reaching carbon neutrality for each line of business and the processes that support them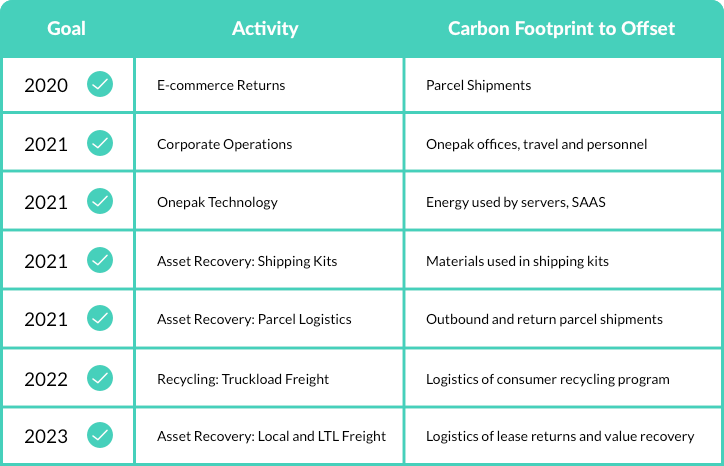 Asset Recovery & Recycling
Every item we pick up, ship or track in Onepak's system is an asset that will be reused, resold or recycled. Every client we serve uses Onepak to drive their sustainability or circular economy programs.
Asset Recovery
Businesses use our online ReturnCenter.com to ship their off-lease office and medical equipment to remarketers and recyclers to avoid those items going to landfills or third world countries where there are fewer environmental controls over such waste. Instead, this equipment provides service through a secondary life, or parts that enable refurbishment of other equipment.
Electronics OEMs use our cloud-based technologies to manage global asset recovery programs that enable them to transition their production processes toward a circular supply chain. Without the infrastructure Onepak provides, recovering and routing used equipment to facilities that drive material flows for reuse, resale and repurposing would not be possible.
Electronics Recycling
Consumers and OEMs use our online services to send their used electronics to recyclers as part of national takeback programs that have ensured the responsible recycling of over 1 Billion Pounds of e-waste.
By developing several methods of engagement for commercial and consumer users, from servicing onsite pickups and drop-off locations, to providing return shipping kits and shipping labels online, Onepak actively facilitates any desired return method to maximize the volume of goods recycled.
Consumer Solutions
Consumer E-Waste
Onepak's commitment to climate action began more than a decade ago when the company changed suppliers of corrugated cardboard for its shipping kits to maximize the post-consumer recycled content.
From there we strategically designed and implemented the largest consumer e-waste collection program in the US, and continue to improve its efficiency ten years running. So far, Onepak has collected over 600 Million Pounds of consumer e-waste and transported it to R2 Certified facilities for responsible recycling.
Twenty-six states have Producer Responsibility laws governing e-waste. We enable our clients to be more accountable in their environmental programs by developing sophisticated software and processes supporting regulatory compliance at the federal, state and municipal levels—right down to the zip code.
Carbon-Neutral E-Commerce Returns
Onepak recently launched an online service that provides consumers returning e-commerce purchases with an option for carbon-neutral parcel pickups and shipping. By partnering with e-commerce platforms to expand the use of this alternative, consumers can now make a more responsible choice if returning a purchase is absolutely necessary.
Social
HUBZone Location
Onepak has chosen to locate our primary office serving the majority of our employees in a federally designated Historically Underutilized Business Zone (HUBZone). HUBZones are defined as distressed rural and urban communities, typically having low median household incomes, high unemployment or both..
Gender Equality & Diversity
As a technology company we understand all too well the gender gap that exists in STEM fields and we support organizations that inspire, mentor and educate women in technology. Onepak actively seeks and promotes diversity in building a resilient workforce. 30% of our Technology group and 20% of Management are minorities.
Women play a prominent role in Onepak's success, representing half of our entire employee base. Because we are not limited to a particular geographic area for our technology development team, we can choose the best available talent, and at the moment our ever-growing technology team is 40% female and 30% minorities, which is far above the national averages in our industry.
Employee Wellness & Community Engagement
Onepak pays 100% of its employees' health insurance and fully funds a Health Savings Account for the amount of their deductible, including plans for employees with families—virtually no deductible and no insurance premium costs fall to employees.
In addition to a generous time-off policy, Onepak encourages its employees to volunteer in their community and provides one paid day off for them to do so. The company particularly encourages volunteerism with organizations in the alignment with key company causes, including environmental sustainability and women in technology.
Workforce Development
One of the distinguishing factors in Onepak's success is the level of training we provide to the hundreds of logistics professionals in our U.S. network.
Onepak was the first company to develop an IT Asset Handler Certification Program a decade ago. Since then, we have deployed an online Learning Management System (LMS) as well as mobile applications to empower first-mile professionals with the necessary skillset to consistently execute Standard Operating Procedures (SOPs) in the field.
The training that drivers and warehouse workers receive free from Onepak elevates their value to their employers and ensures a better-educated workforce to support the circular economy.
Partner Selection
We value diversity in our partner network and in 2021 Onepak will be launching a plan to measure, track and increase the diversity of its partners. During this high-growth year, we are adding local partners at a rapid rate, and part of our selection process includes prioritizing on-boarding partners who have built a diverse workforce.
Special Projects
When Onepak discontinued a program that left us with almost 2,500 large plastic bags, we donated them to a church in New Jersey that used them to make mats for the homeless as part of their outreach program. Not only did this project keep that plastic out of the landfill, but it served a useful social purpose.
Onepak also supports organizations that help build the circular economy, such as Interconnection, a non-profit in Seattle that refurbishes donated computers and gives them to schools and communities in need around the world.
InterConnection has connected over 300,000 people in 40 different countries to life-changing technology. Onepak's donation of a full truckload of shipping kits right-sized for shipping computers enabled Interconnection to safely ship hundreds of computers out, and to provide packaging to donors to ship hundreds more to their facility.
By empowering Interconnection to move more computers safely, we helped them close the technology gap in every community they serve.
Governance
Code of Conduct & Business Ethics
Every employee signs a code of conduct that reflects our culture of integrity, honest business practices, and fair treatment of all our stakeholders. Our devotion to high standards of business ethics is apparent in our internal training, in our expedited claims policies and in the examples set by leadership in every interaction with employees, clients, and customers. Further, external audit procedures are conducted according to GAAP and SEC regulations specifically to detect the existence of, or potential for, unethical activity (fraud, bribery, corruption, etc).
Data Security & Privacy
We gather, manage and store data for Fortune 50 companies, among others. That privilege and responsibility do not come without strict controls in place for data security and an absolute commitment to privacy. Through over a decade of continued growth Onepak has consistently selected tier-one cloud service providers with redundancy standards that exceed every expectation of our clients. There is no greater priority for our technology services team than data security and uptime guarantees. Here are a few examples of controls we have in place:
Extensive controls around the management of client data, including documented and signed policies regarding International Privacy & Security.
Audits of all financial data and statements by a licensed, independent auditor according to GAAP and SEC 10K/10Q standards.
Extensive controls for data security including internal policies and external information privacy and security agreements with clients.
Regular risk management assessment from clients and independent auditors, including environmental and data security impact.